Georgia Mobile Notary Services
Meet the Georgia Notary Public
Hello! I'm Jessica Dukharan, a commissioned notary public for the State of Georgia. I obtained my Certificate of Appointment of Notary Public in August 2021, and I am authorized to perform notarial acts (as defined by Georgia Notary Law) anywhere within the State of Georgia.
I AM NOT AN ATTORNEY LICENSED TO PRACTICE LAW IN THE STATE OF GEORGIA, AND I MAY NOT GIVE LEGAL ADVICE OR ACCEPT FEES FOR LEGAL ADVICE.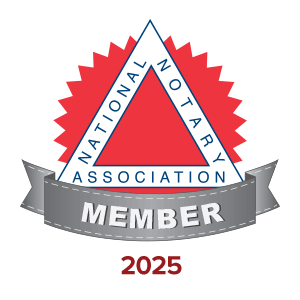 Fee for Travel + Convenience
"No notary is obligated to perform a notarial act if he or she feels such act is for a transaction which the notary knows or suspects is illegal, false or deceptive; for a person who is being coerced or for a person whose demeanor causes compelling doubts about whether the person knows the consequences of the transaction requiring the notarial act." -Georgia Notary Law, gsccca.org
Business Hours

Notarial Acts

Acceptable ID & Payment

Steps for Notarization
Monday - 8:00 AM to 5:00 PM
Tuesday - 12:00 PM to 5:00 PM
Wednesday - 8:00 AM to 5:00 PM
Thursday - 12:00 PM to 5:00 PM
Friday - 8:00 AM to 5:00 PM
Saturday - Closed
Sunday - 8:00 AM to 5:00 PM
I provide the following mobile notary services:
Signature Witnessing: "A notarial act for which an individual personally appears before a notary, and signs a document in the notary's presence. Because the individual does not acknowledge his/her signature, swear an oath or make an affirmation, there is no verbal ceremony for a signature witnessing" (American Society of Notaries, p. 84). 
Acknowledgment: "A notarial act in which the signer of a document admits to a notary public that he/she signed the document, understands the contents of the document, and that he/she is aware of the consequences of executing the document by signing it of his/her own free will" (American Society of Notaries, p. 81). 
Jurat: This is "the written notarial certificate found on an affidavit, application, or other document indicating that the signer swore or affirmed to the notary under penalty of perjury that the information in the document is the truth" (American Society of Notaries, p. 83). 
Oath: This is "any form of attestation or pledge by which a person signifies that he/she is bound in conscience and out of a sense of responsibility to a Supreme Being to the truthfulness of some statement" (American Society of Notaries, pp. 83-84). 
Affirmation: This is "a solemn statement of truth made under penalty of perjury, equivalent by law to an oath, but without religious significance or reference to a Supreme Being" (American Society of Notaries, p. 81).  
References
American Society of Notaries. (2020). Terms and Definitions. In Georgia Notary Handbook (10th ed., pp. 81–85). Georgia Superior Court Clerk's Cooperative Authority.
Valid Forms of Identification:
State-issued driver's license
State-issued identification card
U.S. passport issued by the U.S. Department of State
Permanent resident card, or "green card," issued by the U.S. Citizenship and Immigration Services
Foreign passport duly stamped by USCIS (United States Citizenship and Immigration Services)
Valid Forms of Payment:
Credit card
Debit card
Cash (must be exact)
Step 1
Read everything on this "Georgia Mobile Notary Services" page on www.jessicadukharan.com to ensure I provide the type of service(s) you need and to learn about my business hours, fees, acceptable forms of IDs & payment, etc.
Step 2
Step 3
Step 4
Step 5
Step 6
contact@jessicadukharan.com
Ready to book an appointment? Complete this form.